Privilege Denying Dude
I've been around a lot of this lately. A lot of "mansplaining" and interrupting, and privileged belief in the meritocracy. It's frustrating at least and mind-imploding at worst. I'm pretty excited to get back to school after a year away, back to people who understand what I mean when I state that these ads are racist and who melt just as much at this as I do.
I'm excited to stop feeling like a buzzkill and to stop being the only one on my side in debates. However, in the meantime, I have memes like this to make me laugh (since racist jabs and jokes don't) and make me think.
For those of you who are curious about how the Privilege Denying Dude came about, check out this article. And if you'd like to thank someone for this most brilliant creation, send Edman Goodrich a message thanking him for volunteering his smug image for this meme.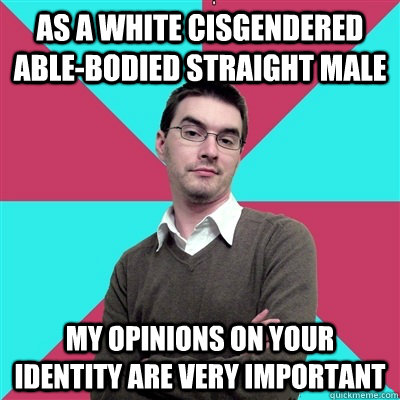 03. September 2012 by Juliana
Categories: Feminism, Race | Tags: denying dude, edman goodrich, meme, privilege | Leave a comment